The 24th June was midsummer eve this year. This is a festival associated with the summer solstice.
Midsummer
is thought to be a very favourable time to find a partner. In addition, many weddings take place at Midsummer. Most of the Midsummer "spells" (more of a pagan ritual) have to do with seeing your future husband's face. According to one of the spells, you were supposed to pick nine different flowers and to put them under your pillow and in this manner you would see him in your dreams. Tradition also has it that females wanting to see their future partners should go naked to a well and peer into the water to see the face of their future partner in the reflection. Needless to say, this would attract a lot of men around the spot and obviously these encounters might result in alliances for some. Shakespeare captured this night of supernatural wonder in his play "A Midsummer Night's Dream" when humans and other-world fairies mingled on a night when love and mischief was definitely in the air.

In today's day, the midusmmer festival is celebrated by 'raising the pole' or by burning a bonfire (much like lohri back home – Only this is done in daytime). (The picture is courtesy Wikipedia). During Midsummer Eve, i.e. the night before the longest day of the year, people light these huge bonfires to symbolize light triumphing over darkness, and life over death. It is also believed that they are driving out bad spirits by doing that. There is a lot of cultural stuff like folk dances, games, songs, fortune tellers etc at this event. The date is not fixed. The government decided that they would choose the closest friday to midsummer solstice as the midsummer eve. This way people get a long weekend. They also have a tradition of hoisting the finland flag (Almost every building has a pole for that) on this particular day. This is a much awaited event especially in Finland. Nature is one of the main elements of Midsummer. Practically everyone who has the chance will spend their few days off in the countryside. This is the time when people go out to their summer cottages and have a nice time just relaxing. The city wears a deserted look all of a sudden. This was one day when we noticed that only the 'foreigners' in Finland were left behind as they didn't go anywhere.

Midsummer is an ecclesiastical celebration, the celebration of the mid point of the summer and it has also been the National Flag Day ever since 1934. The funny thing is that all these are celebrated on the day before – Midsummer Eve is somehow more important than the actual Midsummer Day. This day has actually been a battle field for religion in Finland: it has been debated as to whether it is originally a pagan or Christian celebration. This is a popular day for getting married.

Midsummer is the time when you are allowed to go a little crazy. Some people do that by trying out the magic that their forefathers were so ready to believe in. Other people may try to achieve that same feeling with the help of alcohol and that causes trouble for the police and hospitals. One can see shards of broken bottles everywhere and people lying drunk on the streets.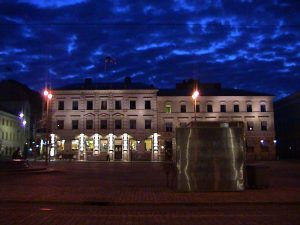 Though I didn't go "out" anywhere and neither did I visit the Midsummer celebration in Seurasaari island here, I enjoyed my long weekend. On midsummer eve, the weather was absolutely great and I was walking on the streets till 1:30 am (something I have been doing quite often). The sky was a deep blue and was covered with clouds as seen in the pic I have clicked of the Esplanadé at that unearthly hour. The next post would be on what I did on the weekend.
---