Recently I made these Cheesy Quinoa Quenelles with Mango Aioli 🙂 I have had Quinoa earlier but didn't like it much then. But this particular dish is really really tasty and definitely in favour of quinoa. I had seen a lot of quinoa fritters recipes on the net and Aioli recipes as well .. I imbibed all these various recipes, added the king of fruits into it and thus came Cheesy Quinoa Quenelles with Mango Aioli !
They were the perfect accompaniment to the monsoon season. Crunchy, cheesy, full of texture, healthy star ingredient and that aioli was to die for! I will use it with other dishes too. Here's the recipe:
Cheesy Quinoa Quenelles with Mango Aioli
Portion size : 2
Serves : 3-4
Cooking time : 30 minutes
Preparation time : 5 minutes
Ingredients
Mango Aioli
Half a pureed ripe mango (roughly 4 tbsp)
2 tbsp mayonnaise
2 tablespoons fresh lime juice
1 tbsp fresh lemon rind
Some chopped red paprika (or any other chilly)
1 tablespoon minced garlic
1/2 teaspoon salt
Quinoa Quenelles
2/3 cup quinoa, rinsed, drained (I used the red quinoa)
1/4 cup flour (maida)
1/4 cup crumbled or grated Mozzarella (or any other cheese)
3/4 teaspoons salt
Freshly ground black pepper
1 chopped onion
1/4 cup coriander or mint (or whichever leafy herb u prefer)
1 large egg
Vegetable oil (for frying)
Method:
Mango Aioli
Blend mango puree, garlic, paprika, salt, lime juice and lemon rind in a mixer. Whisk in mayonnaise. Adjust salt/chilly if required. Cover and chill. (You can make this a day in advance also)
Cheesy Quinoa Quenelles
1. Heat a pan. Add quinoa, toast it, stirring constantly for about 5 minutes. (White quinoa will become golden)

2. Add 1 1/3 cups water to quinoa and boil it. After boiling, let it simmer on low heat till it is cooked and till quinoa has absorbed all the water. (~12 minutes)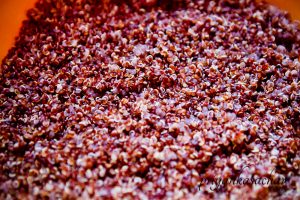 3. Remove from heat and keep covered for 15 minutes. Uncover and cool. Transfer to a large bowl (in which you will make quinoa dough).
4. Add flour, onions, coriander or mint, salt & pepper to quinoa and toss. Add cheese, mix well. Beat the egg separately and stir into this mix until a dough forms (mix gently to prevent quinoa from breaking so that it retains texture)

5. Heat oil in a pan.
6. Take 2 large table spoons. Scoop dough in one spoon, use the second spoon to scoop this dough out of first spoon, repeat process till a smooth oval shape (like a rugby ball) has formed. (Congratulations you just made a quenelle!)
7. Fry these quenelles in oil, turn occasionally and transfer to a plate with a napkin or paper towel.
8. Serve the cheesy Quinoa Quenelles warm with the Sweet & spicy Mango aioli .. Enjoy along with the monsoons
Here's the recipe in recipe card format as well
Cheesy Quinoa Quenelles with Mango Aioli
2016-08-28 14:47:29
Ingredients
Mango Aioli
Half a pureed ripe mango (roughly 4 tbsp)
2 tbsp mayonnaise
2 tablespoons fresh lime juice
1 tbsp fresh lemon rind
Some chopped red paprika (or any other chilly)
1 tablespoon minced garlic
1/2 teaspoon salt
Quinoa Quenelles
2/3 cup quinoa, rinsed, drained (I used the red quinoa)
1/4 cup flour (maida)
1/4 cup crumbled or grated Mozzarella (or any other cheese)
3/4 teaspoons salt
Freshly ground black pepper
1 chopped onion
1/4 cup coriander or mint (or whichever leafy herb u prefer)
1 large egg
Vegetable oil (for frying)
Method
Mango Aioli
Blend mango puree, garlic, paprika, salt, lime juice and lemon rind in a mixer. Whisk in mayonnaise. Adjust salt/chilly if required. Cover and chill. (You can make this a day in advance also)
Cheesy Quinoa Quenelles
1. Heat a pan. Add quinoa, toast it, stirring constantly for about 5 minutes. (White quinoa will become golden)
2. Add 1 1/3 cups water to quinoa and boil it. After boiling, let it simmer on low heat till it is cooked and till quinoa has absorbed all the water. (~12 minutes)
3. Remove from heat and keep covered for 15 minutes. Uncover and cool. Transfer to a large bowl (in which you will make quinoa dough).
4. Add flour, onions, coriander or mint, salt & pepper to quinoa and toss. Add cheese, mix well. Beat the egg separately and stir into this mix until a dough forms (mix gently to prevent quinoa from breaking so that it retains texture)
5. Heat oil in a pan.
6. Take 2 large table spoons. Scoop dough in one spoon, use the second spoon to scoop this dough out of first spoon, repeat process till a smooth oval shape (like a rugby ball) has formed. (Congratulations you just made a quenelle!)
7. Fry these quenelles in oil, turn occasionally and transfer to a plate with a napkin or paper towel.
8. Serve the cheesy Quinoa Quenelles warm with the Sweet & spicy Mango aioli .. Enjoy along with the monsoons
Twilight Fairy https://blog.twilightfairy.in/
---