I have been following Masterchef Australia since quite a while now. So when Knorr India came up with a contest that gave a chance to meet the judges, and attend a #knorrmasterclass, I went all in! The pre-requisite was to use any new Knorr Easy chef Indian masalas in a dish. So I promptly ordered mine from Bigbasket as instructed. What I came up with is a Dal Makhni Lentil Burger (using dal makhni masala) with Chicken Curry Mayo (using chicken curry masala). I'll go straight to the recipe.
Dal Makhni Lentil Burger with chicken curry mayo
Portion size : 1
Serves : 1
Cooking time : 30 minutes
Preparation time : 7 hours
Utensils/Equipment – 1 pressure cooker to cook the Black Urad dal, 1 pan for making the lentil patty, knife for chopping, 1 cutting board, 1 utensil to soak dal overnight, 1 pan for making the lentil mix, 1 mixer for bread crumbs
INGREDIENTS
Black Urad dal – ½ cup
Onion – 1, finely chopped
Knorr Dal Makhni masala
Knorr Chicken curry masala
Butter – roughly 2 tbsp & some for frying
Mayonnaise – 4 tbsp
Salt – to taste
Bread – 1 slice
Jalapenos, Red paprika, pickled Gherkins, iceberg lettuce, tomato – for garnish
MeThod:
1. Soak Black Urad dal overnight. Next morning pressure cook it till the grains are soft (roughly half hour for patty, 1 hr if you want actual dal)
2. In a pan fry some onions in butter. If you use the masala you dont need to add anything else, but I added a little onion for texture in the patty.
3. Add the dal, half packet of Knorr Dal Makhni masala & just 2 spoons of water to mix it all well. Sprinkle some salt, but this masala already has salt, so be careful about how much you add. Let it cool and mash it completely.
4. Pulse one slice of bread in a mixer and add these bread crumbs to the lentil mash for increasing binding.
5. After the mix is mashed, shape into patties and fry in some butter for added makhni flavour.
6. Now prepare chicken curry mayo, by taking the mayonnaise in a bowl and adding a few pinches of the chicken curry masala. Mix very well so that the masala is completely absorbed well into the mayonnaise & u dont taste it as separate granules.
7. Heat the burger bun. Take the lower part, spread some of the chicken curry mayo, place some iceberg lettuce on to it and a dal makhni patty.
8. Garnish with red paprika, chopped jalapenos, slivers of pickled gherkin & slices of tomato. You can add more mayo if desired. Voila! Enjoy!
Here's a composite image of all the elements of this dish.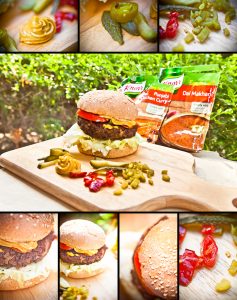 I must say it was quite tasty ESPECIALLY the chicken curry mayo. Dal makhni flavours anyway go so well with butter chicken & chicken curry. So go ahead try this protein packed very filling Dal Makhni Lentil Burger with Chicken Curry mayo and let me know how it turned out!
---