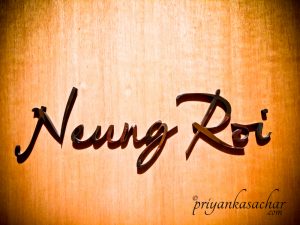 Recently I was invited by Radisson Blu plaza, Delhi, to try out Thai food at Neung Roi. I was actually supposed to try it exactly a year back when I had been invited to try out the spa experience. However the relaxing spa experience did not leave me any time for a leisurely 4-5 course lunch. So this year I went exclusively to try out the Thai food at Neung Roi. I really like Thai cuisine a lot and also make a lot of it myself. But then the stuff I make, mostly uses ready made pastes etc. So I was pretty excited to have "authentic" Thai home food prepared by Master Chef Yengai Suthiwaja.
Neung Roi means 100 in Thai and has been named after the 100oC East longitude, which runs through Thailand. Neung Roi is perhaps the first Thai restaurant I have seen, that segregates its menu based on the major culinary regions. There are four major culinary regions listed – Isan, Lanna, South and the Central Plains. The menu has a preface that explains the specialty of each region. For example the Isan region has spicy flavours, hot and salty dishes are from Lanna, seafood and fresh produce is from South, and mild, subtle and balanced flavours are from the Central Plains here. I like a menu that actually enlightens the consumer. It was only after a lifetime of eating Chinese or "Chindian" did I realise that Manchuria, Sichuan (misspelt as schezwan in India or even Sehejwan!), Hakka , Hunan, Shandong etc refer to various regions and hence different influences on Chinese food.
The ambience of the restaurant is very nice. Soothing tones, attractive lighting and spacious seats.
So without much ado, here's what all I tried from the iPad menu I was provided. Since I went alone for the review (instead of in a group), some of the portion sizes were customised for me and made smaller.
We started with something that was a mouth freshener sort of thing. It was made with a betel life like a paan but had typical Thai flavours like lemongrass, chili, peanuts etc.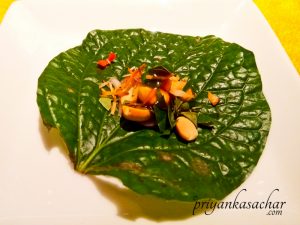 STARTERS & SALAD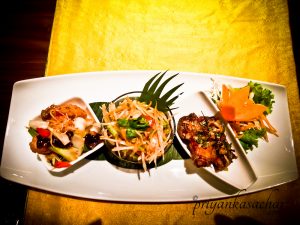 Pla Phad Khing
Wok fried fish with black mushroom & crispy ginger. This was really tasty.
Gai Yang
Grilled chicken with coriander roots & roasted chilli sauce. The chicken tasted a bit chewy but that was because I realised that the skin was on. And although it felt and tasted like fried chicken, it had been grilled. It was flavourful.
Som Tum
Raw papaya salad with peanut, chilli & light soya sauce. The salad was light and refreshing and also used edamame beans – something I have never used myself while making this salad.
Chormuang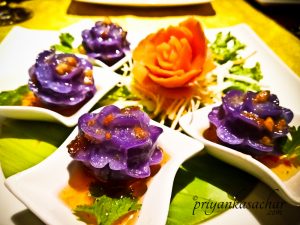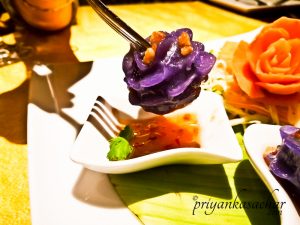 Steamed Thai butterfly flower dumpling filled with vegetable
While going through the iPad menu my eyes stopped at "butterfly flower" and I was immediately curious about what this dish was. I wondered if it was made with something called "butterfly flower" or it looked like a "butterfly flower". So I was told by the waiter that these are lavender coloured dumplings! Can you, dear reader, imagine anything like this? That piqued my curiosity even further and I ordered this dish. I must say it was quite a surprise when it came! Not only did it look spectacular, i tasted great. Later the chef met me and told me that the dough for the dumplings uses stock from dried purple flowers which give it this colour. And the filling was sweet potato, onions and peas!
SOUPS
Tom Yum Gai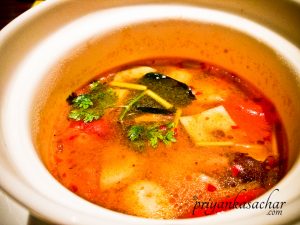 Spicy & sour chicken soup with lemongrass, kaffir lime & galangal. The soup was very flavourful and the individual flavours were distinctly standing out.
MAIN COURSE
Gaeng Kiew Wan Gai
Chicken green curry with Thai eggplant, basil, kaffir lime & coconut milk. The thai curry was quite tasty. I often make red and green curries at home and the wonderful new addition here was the crunchy Thai brinjal that looks more like capers.
Gai Kraprow
Minced Chicken with long beans, hot basil & chilli. This was also quite tasty but perhaps best eaten with rice.
Pla Sam Rod
Crisp fried fish in three flavor sauce. It was really tasty but felt more like a stand alone appetiser rather than a main course dish to be eaten as an accompaniment to other dishes.
Phad Thai Pak
Flat rice noodle with bean sprout, chive, tamarind, chilli & peanut. I make rice noodles all the time at home. Nevertheless these were really tasty and actually had different flavours from the ones I am used to. Also, I've never used lemon juice on top of pad thai noodles! That was an interesting take.
DESSERT
Tub Tim Krob
Water chestnut in coconut jasmine syrup. The water chestnuts had been soaked in a strawberry flavoured gelatinous syrup and resembled pomegranate seeds! It was quite tasty.
Kanom Tom
Jaggery stuffed pandanus glutinous rice dumpling with coconut. This was the first time I had a sweet dumpling! That too with jaggery & coconut. It felt like I was eating an Indian sweet dish. But it is important to eat them while they are hot, else the jaggery solidifies a bit.
Fig & Honey Ice cream
A non Thai dessert, but very tasty nevertheless.
After a very sumptuous meal I visited the washroom at Radisson Blu plaza and was completely floored by the gigantic drawing room that I entered in, which also happened to house toilets! So here are a few images of that lavish room too 🙂
After this I met Master Chef Yengai Suthiwaja for some chit chat where I discussed various preparations and she also showed me the flower that gave those gorgeous dumplings their colour. It is a dried flower imported from Thailand for this very purpose.
And here's Master Chef Yengai Suthiwaja who I thanked for a hearty meal which was flavourful and also very interesting at the same time.
Here are some more details of Neung Roi. Reservations are recommended.
Phone number
011 33105576

Cost
Average
Rs 3,000 for two people (approx.)
VAT & service charges extra
---