If you have ever read Enid Blyton's "The Faraway tree" series, you would remember how a different land used to come on top of the tree every time the trio of lead characters visited the tree top..and they would have fun, be mesmerised with the magic and then come back to their own land. How cool would it be if you knew some place where if you open the door you enter a different world, you partake, you enjoy and then you go back to your own world. Well now there IS one such place. Let me introduce you to Haveli dharampura.
Set in the bylanes of chandni chowk, ensconced in gali guliyan, where the lanes are so narrow, you can only walk – lies an old world land. As you enter the haveli's heavy set doors you step into a different world. The world of squalor, grime and zillion electric cables tied in to precarious knots is left behind on the outside. What you face is a glimpse of the way nobles and courtiers used to live in Delhi, not so long back. The architecture is a pleasing and unique mix of Hindu, Mughal and colonial influences. You first encounter a verandah with a fountain in the centre, as is typical of many Indian havelis.. a central courtyard with a garden or fountain which used to cool the entire house built around it. The three storeyed haveli can be seen fully from here and well.. from all floors as well. Beyond the varandah is the Baithak or drawing room which now hosts the restaurant – Lakhori. Named after the bricks that the haveli is built with, it serves a cuisine with Mughal and Jain influences.. The same which evolved into the Chandni chowk food that everyone rushes to grab a bite of every now and then.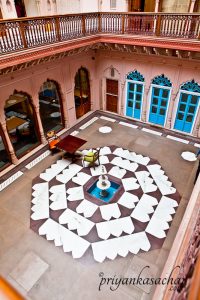 The day I visited this old world gem, I met Vidyun Goel the hostess and was treated to a sumptuous collection of dishes from an elaborate menu. Here are some of them. In ascending order of appearance these are – cucumber chaat canapes, palak patta chaat, murg ke paarche, golgappe, galouti kabab, kadak roomali masala, dahi bhalla, Berry's delight, aloo gobhi mattar deconstructed, kadai chicken (served in a roti), mutton korma, paneer parantha with kashiphal kee sabji, makhane kee kheer, mango kulfi and paan kulfi both wrapped in a chocolate shell .. There was so much more to nibble at that somewhere I quite forgot to take pics and just immersed myself in the gastronomic experience.
The three storeys of the haveli above the ground floor, have 13 fully furnished rooms – the 14th was converted into a spa. These rooms are divided into Jharokha Rooms, Diwan E Khas Rooms, and Shahjahan Suites. If I am not wrong they are named after various gates of Delhi – the old city. The rooms have the vintage old world feel but are fully equipped with all modern amenities and most importantly, well, modern bathrooms :). As dear readers may note, one may live in this land for a while before retreating to one's own world. But it wasn't always like that. Built around 1887 AD, the haveli rooms were divided and subdivided by their owners into nearly 64 rooms! The restoration that took about 8 years, 45 lakhs, 50 specialised masons and labourers was a slow and painful journey with no precedent. Finally we see it restored to its old world glory and the ambience quickly takes us back to an era we haven't actually ever seen. The credit of all this goes to heritage lover & MP Mr. Vijay Goel, his son Siddhant Goel & their entire family. I hope that other havelis in that area follow suit and somehow manage to do the same because the government is also offering them restoration assistance funds.
Apparently the previous owners had a dream that there was a safe in the basement under the ground.. they dug up that precise spot and lo and behold! There indeed WAS a safe under the ground! They claim that it was empty but then who knows what *really* happened when this tijori was opened 🙂 . I wish my dreams told me about buried treasures!
Here's a look at the views from the top floor .. you can see all the floors from every floor. Makes me miss the old world architecture where you could see all the family members and talk across floors. You can also see Jama masjid from the terrace. There's another rooftop restaurant at the terrace called the "baradari". The terrace has a new piece of architecture built into it borrowed from the Rajasthan havelis. The panorama shows the view from the absolute top with Vidyun also in the picture.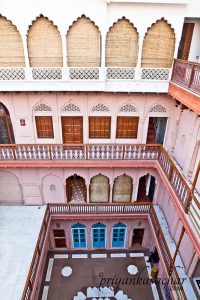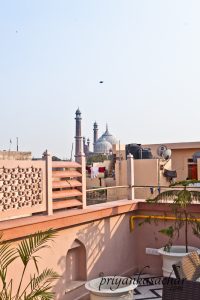 Apart from being a heritage hotel the Dharampura haveli also has a lot of exciting things for its guests. It houses a tiny art gallery with images from the olden times of Chandni chowk. It will perhaps showcase exhibitions of modern artists too. Apart from this they also have a tiny library section with a cosy seating area next to it. They have a shisha room as well and of course there's the spa. And did I mention that they also have an elevator? It sure is much needed.
The magic of the old world would not be complete without the kathak performances that have been started now. They are organised every Friday, Saturday, Sunday along with a fixed dinner menu. Unfortunately I haven't witnessed any, but can only imagine how breathtaking it would look. There are other activities for the guests, like Kabootar baazi (pigeon flying) and patangbaazi (Kite flying).
A view of the balcony at the haveli and the narrow lane and a different world it looks upon.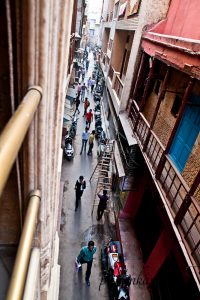 Here's a glimpse of the "Now an Then" provided by the folks at Haveli Dharampura
There are just a handful of heritage hotels in Delhi but all of them are from the colonial era from what I know. Haveli Dharampura has, by far the oldest heritage in Delhi! Being in the heart of THE delhi, it has a unique advantage for travellers, who want to explore Delhi and don't want to be located very far from the centre of attraction. These walls have seen lot of centuries, exchanged hands with a lot of owners and under all that plaster and paint lies the soul of a haveli that lives on and has been witness to many stories. You must go and have a conversation with it some evening.
Contact info:
2293, Gali Guliyan, Dharampura, Delhi-6
Tel.: 011-23261000, 011-23263000
E-mail: info@havelidharampura.com
reservations@havelidharampura.com
---